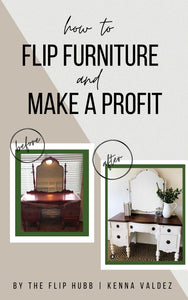 From start to finish, everything you need to know about flipping furniture. From selling it for a profit... or just to refinish it to add to your personal collection of home decor, it's all here.


How to source furniture: Where to look, how to search, what to buy AND what to spend.

Fixing the most common furniture damage: Veneer, broken drawers, dents and chipping, and getting rid of the worst smells.

How to properly clean your item + how to prep the right way.

How to paint furniture: The techniques that work, the best products and all of the right tools you need.

Staging your piece to sell

Where to list it, how to list it, and my best tips for making a profit. 

The photos to guide you, the links to direct you to what you need, and the most common questions all at your fingertips. Learn how to do it all and how to make money working from home on your own time clock.